Mustafa A. Haque, MD
Orthopaedic Surgeon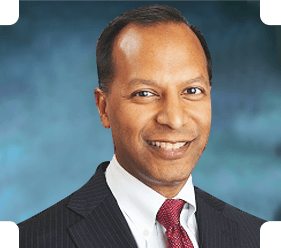 Dr. Haque's orthopedic hand and upper extremity practice focuses on the diagnosis and treatment of conditions of the hand, wrist, elbow, and shoulder in children and adults. These conditions include arthritis of the joints and soft tissues, infections, tumors, nerve compressions such as carpal tunnel syndrome, and painful problems such as tendonitis. He also has expertise in caring for acute traumatic injuries such as fractures, ligament tears, and lacerations of nerves, tendons, or blood vessels, as well as taking care of late complications of these types of injuries.
His training includes undergraduate studies at Yale University, followed by medical school at the University of Pennsylvania. He then completed his Orthopaedic Surgery residency in 1997 at Case Western Reserve's University Hospitals of Cleveland. He stayed in Cleveland for a Hand and Upper Extremity fellowship that was combined between the Cleveland Clinic Foundation and University Hospitals. In 1998, he joined the Department of Orthopaedic Surgery at Georgetown University Hospital. He was the Chief of Hand Surgery there for seven years, then he joined his current position in private practice with Summit Orthopedics.
Dr. Haque evaluates patients in offices at Chevy Chase and Waldorf in Maryland, or in cases of severe injury, in the Emergency Room. A treatment plan is carefully formulated, and patients are followed until they have the best outcome that can be obtained. Many patients can be treated without surgery.
Dr. Haque's chief goal is to return patients to their best possible function. He works closely with a hand therapist at the Chevy Chase office, and he refers to a wide network of therapists in the community who can provide treatments closer to home if necessary. He maintains close relationships with other specialists such as rheumatologists, neurologists, and radiologists to provide you with integrated diagnosis and care.
To contact Dr. Haque's office, feel free to visit: www.summit-orthopedics.com
Mustafa A. Haque, MD
Orthopaedic Surgeon
Summit Orthopaedics
5530 Wisconsin Avenue
Suite 1660
Chevy Chase, Maryland 20815
(301) 657-9876
(301) 657-8240