Edward G. Magur, MD
Orthopaedic Surgeon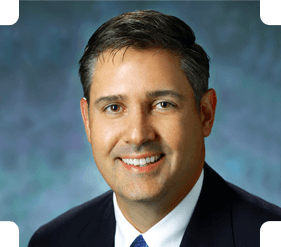 Dr. Edward G. Magur, MD, is an orthopaedic surgeon who specializes in conditions, injuries and disorders of the foot and ankle.
Dr. Magur's research interests include injuries of the foot and ankle in athletes. His approach to foot and ankle care is to evaluate the injury or condition, assess the patient's lifestyle and recommend appropriate treatment measures. When feasible, he recommends nonoperative measures such as medication, therapy, shoewear modifications and orthotics. Surgical discussions are generally reserved for conditions that fail to respond to appropriate conservative management.
Dr. Magur completed his foot and ankle fellowship with Dr. James Sammarco at the Center for Orthopedic Care in Cincinnati, Ohio and his orthopaedic surgery residency at Georgetown University Hospital in Washington, D.C. He received his MD from Upstate Medical University in Syracuse, N.Y. and his BS from Cornell University in Ithaca, N.Y.
Dr. Magur is currently the foot and ankle consultant for the Washington Capitals, Washington Wizards, and the Washington Ballet. He is the former assistant team physician of the Washington Nationals.
Dr. Magur is board-certified by the American Board of Orthopaedic Surgery.
Sibley Memorial Hospital
Bethesda Chevy Chase Surgery Center
Fellowship, Orthopaedic Foot and Ankle, Center for Orthopaedic Care, Inc., Cincinnati, Ohio, 2004
Residency, Orthopaedic Surgery, Georgetown University Hospital, Washington, D.C., 1999-2003
Internship, General Surgery, Georgetown University Hospital, Washington, D.C., 1998-1999
MD, Upstate Medical University, Syracuse, N.Y., 1994-1998
BS, Cornell University, Ithaca, N.Y., 1994
Washington Ballet
Washington Wizards
Washington Capitals
American Board of Orthopaedic Surgery
Alpha Omega Alpha Medical Honor Society
International Association of Health Care Professionals
Cambridge Who's Who among Physicians
Alpha Omega Alpha Medical Honor Society
American Academy of Orthopedic Surgeons
American Orthopedic Foot and Ankle Society
Washington Orthopedic Society
George Washington University Orthopedic Surgery Residency
To contact Dr. Magur's office, feel free to visit: www.wosm.com
Edward G. Magur, MD
Orthopaedic Surgeon
Washington Orthopaedics & Sports Medicine
Main Office: 5454 Wisconsin Ave
Suite 1000
Chevy Chase, MD 20815
(301) 657-1996
(301) 951-6160