David M. Lutton, MD
Orthopaedic Surgeon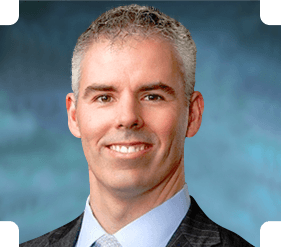 Dr. Lutton is a board-certified, fellowship-trained orthopaedic surgeon, specializing in shoulder, elbow, and sports injuries. A Northern Virginia native, he is a graduate of Thomas Jefferson High School for Science & Technology and the University of Virginia. He received a Master's degree in Anatomy, and attended the George Washington University School of Medicine, where he graduated With Honors and was elected into the Alpha Omega Alpha (AOA) Medical Honor Society. He completed his Orthopaedic Surgery residency at GWU Medical Center.
Following residency, Dr. Lutton pursued specialty training at Mt. Sinai Hospital in Manhattan, NY, as the Shoulder & Elbow Fellow for the then president of the Shoulder & Elbow Surgery Society, Evan L. Flatow, M.D. There he received advanced, state-of-the-art training in minimally invasive, arthroscopic, and open techniques for treating all shoulder and elbow pathologies, including:
Rotator cuff tendonitis/impingement and tears
Shoulder and elbow contractures and arthritis
Shoulder and elbow instability
Shoulder and elbow fractures
At Mt. Sinai, he also trained with leading sports surgeons, Dr. Gladstone and Dr. Glashow. Concurrently, he also served as a shoulder & elbow specialist and traumatologist for Elmhurst Hospital in Queens.
Dr. Lutton remains very active in medical education at multiple levels. In 2009, 2010, 2011, and 2012, at the Annual American Academy of Orthopaedic Surgery Conventions, Dr. Lutton was an instructor to practicing orthopaedic surgeons in courses including "Reverse Total Shoulder Arthroplasty" and "Arthroscopic Rotator Cuff Tears." In 2011, Dr. Lutton was a faculty member of the first annual Mid Atlantic Shoulder and Elbow Society Meeting, and is a 2012 Program Chairman. While At Mt. Sinai Hospital in NY, the Orthopaedic Residents honored Dr. Lutton with the "2008-2009 Teacher of the Year Award." As Assistant Professor of Orthopaedic Surgery at GWU, he was also honored by the GWU Orthopaedic Residents with the "2010-2011 Teacher of the Year Award." He continues to teach at the GWU Medical School and the GWU Orthopaedic Residency Program.
In 2012, Dr. Lutton was chosen as one of Washingtonian Magazine's "100 Top Doctors", nominated by physician peers.
To contact Dr. Lutton's office, feel free to visit: www.washingtoncircleortho.com
David M. Lutton, MD
Orthopaedic Surgeon
Washington Circle Orthopaedic Associates
A Division of Centers For Advanced Orthopaedics, LLC
3 Washington Circle, NW
Suite 404
Washington, DC  20037
(202) 333-2820
(202) 833-1410